Switching from Microsoft Dynamics 365 to NetSuite's true cloud solution allows businesses to become more competitive, lower costs, streamline business processes, and increase efficiency.
Are you evaluating software for your business? Learn the reasons why thousands of companies are moving to the NetSuite cloud and compare Oracle NetSuite vs Microsoft Dynamics in 2023.
Compare Microsoft Dynamics vs. NetSuite
Transform your business with NetSuite, the #1 cloud ERP system on the market.
NetSuite is a modern, cloud-based ERP software that helps businesses run more efficiently with industry-specific functionalities to support unique business requirements. Run your entire business in real-time with one SaaS based ERP system across financials, back office operations, eCommerce, CRM and marketing.
Why NetSuite? With more than 34,000 customers running on NetSuite, NetSuite is 10 times larger than the next largest competitor in the cloud ERP market and ranked leader in Worldwide Saas and cloud-enabled midmarket ERP applications by IDC Marketscape.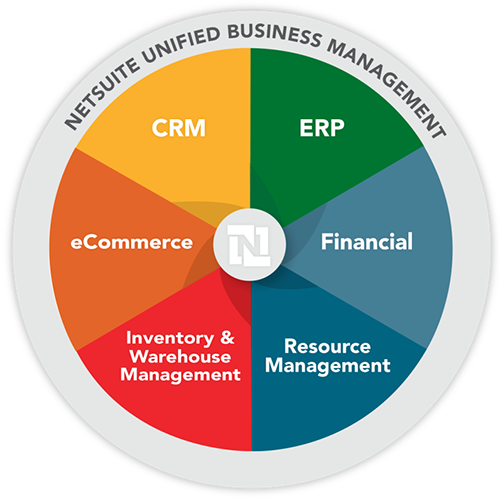 Why Upgrading Microsoft Dynamics is complicated

Even though Microsoft markets it's software migration between versions a simple process, it's actually more difficult that users expect. According to Microsoft, it is a 12-step complex process requiring significant IT resources. As a matter of fact, it is more difficult to migrate to Dynamics 365 (taking 24 weeks) than it is to implement NetSuite (100 days or less).
Dynamics upgrades are complicated in the overall architecture. Dynamics NAV, GP, SL, and AX, were developed separately by different (Great Plains, IBM/Damgaard Data and Navision and Solomon Software) later acquired by Microsoft. With the acquisition, Dynamics added these products to their portfolio but they remained separate solutions.
Key differentiators of Microsoft Dynamics vs. NetSuite
With forced upgrades Microsoft is attempting to simplify from four independent platforms down to two with Dynamics 365 for Finance / Operations and 365 Business Central. Moving from a legacy Dynamics solution to either of the 365 options is problematic because every application and customization needs to be reviewed through rewriting code, data conversion, rebuilding reporting, etc. These platforms are incompatible, and the software's complexity is not being addressed to customers.
Download the point by point comparison and features list of NetSuite vs Microsoft Dynamics NAV. Learn the major reasons why Microsoft Dynamics users are looking to the NetSuite cloud to streamline their business processes.
NetSuite Benefits
Modern & Effective
NetSuite is scalable, cost-effective and customizable to meet your unique needs.
A modern cloud based ERP application that grows with your business.
It is always current, accessible anywhere and reflects the latest trends.
Implementation Ease
NetSuite offers leading practices to get your system up and running efficiently.
Real-Time Information
A single source of data accessible anywhere, anytime.
Comprehensive
Run your business on a single solution across all departments with your unique business requirements.
Top-Tier NetSuite Reseller & Implementation Partner
Protelo is an award-winning NetSuite reseller, and we're passionate about making sure our clients get the best NetSuite implementation possible! From purchasing a NetSuite license, to fully customizing the platform for you, we can help your company pick and choose which features you need most.
Our award-winning NetSuite consulting team would be honored to help guide you through NetSuite's software every step of the way. Please feel free to contact us if you'd like to know more information about us as NetSuite implementation partner.
Receive Updates
On
LinkedIn