Your Quick Guide to NetSuite Cloud ERP Software
NetSuite powers top enterprises, the most innovative mid-size organizations, and the most efficient small businesses with powerful, advanced technology.
As global adoption of the cloud is accelerating, NetSuite continues its success in delivering the best cloud ERP / financials suites to businesses around the world enabling them to lower IT costs significantly while simultaneously increasing productivity.
NetSuite is highly scalable, customizable, and designed to support your company as it grows and changes. A recent Gartner study named NetSuite as the fastest-growing financial management systems vendor in the world. NetSuite is the #1 cloud ERP system on the market that helps businesses run more efficiently and cost-effectively.
NetSuite eliminates the need for separate applications for critical business functions and seamlessly connects information across the business in one unified source.
How does NetSuite work?
With more than 34,000 customers running on NetSuite, it is 10 times larger than the next largest competitor in the ERP market. A broad range of functionalities with industry-specific support means NetSuite works with your unique business requirements. Real-time dashboards provide engaging graphical reports, insight into forecasting, profit, inventory, and more customizable functionalities. Real-time dashboards enable drag-and-drop features and allow employees to customize home pages to best fit their role and needs.
ERP Software That Grows With Your Business
From start-up to global corporation, NetSuite's cloud-based business software solution scales to meet your growing needs every step of the way. This award-winning software allows you to start small, establish a foundation, and effortlessly scale and grow into the future.
A recent Forrester study shows that 50 percent of ERP customers are two or three releases behind the latest version of the software they're currently using. If your software is holding your business back, consider a change. Every business has a different projection for growth, but what separates a successful business is how they utilize the latest technology to support and accelerate their evolution. According to a recent Gartner report, analysts name NetSuite a Leader and a top solution for businesses to run their cloud financials, Enterprise Resource Planning, and omnichannel commerce operations.
What is ERP | NetSuite Demonstration: Enterprise Resource Planning is a business management tool that integrates all functions and departments into one single system to streamline information, synchronize reporting, and automation across the entire organization. Learn how NetSuite, the leading cloud ERP solution, can change connect and unify accounting, HR, inventory, order management, CRM, and much more.
• Learn more about ERP
• What is Cloud ERP Software
• Why Companies Choose NetSuite ERP
• Calculate NetSuite pricing
Protelo is an experienced NetSuite partner fueled with NetSuite experts who understand your business.
Contact our NetSuite team today for:
• A customized demo from a NetSuite expert at Protelo.
• A personalized 14-day trial of NetSuite ERP, if necessary.
What Type of Business Is NetSuite For?
NetSuite built its advanced business system from the ground up in the cloud, which means it's scalable and agile for continued growth. Small, Mid-market, and Enterprise businesses run their crucial operations on NetSuite because of its highly customizable and broad range of functionalities for both business-to-consumer and business-to-business companies in diverse industries and verticals.
With the real-time system accessible across desktops, smartphones, and tablets, a business can be conducted anywhere, anytime. Are you a global company looking for multi-currency and multi-language capabilities? Learn more about NetSuite's powerful OneWorld solution for global financials.
Major industries that benefit from NetSuite ERP: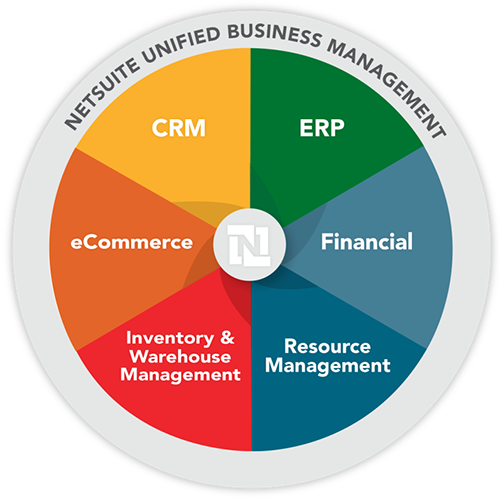 NetSuite Core Features
General Ledger
Global Financial Management
Time and Billing
Accounts Receivable
Accounts Payable
And More
B2B and B2C Capabilities
Inventory Management
Order Management
Drop Shipment and Special Orders
Vendor Records
And More
Campaign Management
Competitor Tracking
Online Lead Forms
Customer and Contact Management
Salesforce Automation
And More
PCI Compliance
Third-party Seller Integration
Customer Acquisition Enhancements
Customer, Partner Self-Service
Multi Language
And More
How Much Does NetSuite Cost?
The cost of NetSuite varies on the size and complexity of the company and business needs. The annual licensing fee will differ depending on factors such as company size, number of users, preferred tools, implementation, and length of the subscription. Check our our NetSuite pricing guide to learn how to buy NetSuite.
Why work with a NetSuite Solution Provider to buy NetSuite? Out of the many options your business has online, businesses choose to work with a NetSuite partner because of the personalized business guidance, one-on-one support, financing plans, and much more. One of the major reasons our customers choose to work with our NetSuite team is for direct access to our staff and support services without support tickets. Our consultants are here for you right away.
Trending ERP Software Resources
Learn how small businesses
are benefitting from cloud ERP and
growing their business.
The benefits of NetSuite continuous
accounting with greater efficiency,
accuracy, and data in one place.

Protelo and NetSuite Partnership
Providing unparalleled service as a top-tier NetSuite Solutions Provider, Protelo implements business technology solutions and services that drive efficiency and solve the challenges modern businesses face. The Protelo team of technology experts have assisted hundreds of small, midmarket and enterprise companies across diverse industries and verticals in achieving their business goals.
Through tailored business software development, implementation, services and management, we have helped our clients streamline business processes and the flow of critical information. Check out our list of NetSuite services to see how our NetSuite team can assist your business today.
Receive Updates
On
LinkedIn