Your Guide to NetSuite Software
With its powerful and advanced technology, NetSuite has become the go-to software choice for top enterprises, innovative mid-sized organizations, and efficient small businesses worldwide.
What is NetSuite used for? NetSuite is not just your ordinary ERP solution; it is a game-changer for businesses of all sizes. Designed with scalability and customization in mind, NetSuite empowers your business to thrive and adapt to the ever-changing market demands. This cutting-edge software has redefined the way businesses operate, delivering remarkable boosts in productivity, streamlining processes, and providing real-time visibility of your entire business on a single cloud-based system.
Imagine having all your critical business operations seamlessly integrated into one centralized platform. With NetSuite, you can effortlessly manage your finances, inventory, customer relationships, and more, all with unparalleled efficiency. No longer will you have to waste valuable time and resources on manual data entry or reconciling disparate systems. NetSuite empowers you to make informed decisions by giving you a comprehensive view of your business's performance, allowing you to respond swiftly to market trends and seize new opportunities.
The recognition NetSuite has garnered in the industry speaks volumes about its prowess. In a recent Gartner study, NetSuite was hailed as the fastest-growing financial management system vendor globally. This accolade only solidifies its position as one of the premier cloud ERP software options available today.
NetSuite is a game-changer for businesses, that simplifies essential functions, boosts productivity, and integrates data across all departments so businesses can easily manage critical information and make informed decisions. By automating manual tasks, NetSuite frees up time for employees to focus on tasks that add value to the business. This frees up important time to drive growth and innovation.
The #1 Cloud ERP on the Market
NetSuite is the leader of cloud ERP because of its exceptional features and capabilities that cater to businesses in every industry. With its innovative dashboards and customizable functionalities, NetSuite empowers your decision makers to make informed decisions, take action quickly, and give you a competitive edge in today's fast-paced business world.

NetSuite's wide range of functionalities, paired with industry-specific support, cater to your business's unique needs. You'll have access to engaging graphical reports and insightful data on forecasting, profit, inventory, and more customizable features in real-time. Your team can personalize their home pages to fit their roles and needs perfectly with the drag-and-drop feature.
ERP Software That Grows With Your Business
No matter where you are in your growth journey, NetSuite can adapt with your business, ensuring that you always have the most innovative and competitive software to guide you towards success. Start small and scale up as needed, without ever having to worry about outgrowing your software again. Need more users? Expanding globally? Reaching into new markets and need your software to adapt? The #1 cloud Enterprise Resource Planning System (ERP) has got what it takes to support your business as it grows and changes! So why settle for on-premise or financials-only software that holds you back?
To stay ahead in today's rapidly evolving business world, it's important to keep up with the latest technology. ERP software is the backbone of many businesses, and outdated versions can put you at a disadvantage in terms of functionality and security risks. By choosing NetSuite's cloud-based solution, you can ensure that your business is always up-to-date and positioned for long-term success. NetSuite software is designed to grow and adapt with your changing needs, providing the flexibility and scalability you need to thrive in any situation.
What is ERP and how does it relate to NetSuite?
An Enterprise Resource Planning (ERP) system is a comprehensive software solution that helps businesses streamline and automate various key operations such as finance, accounting, HR, inventory management, and customer relationship management (CRM). NetSuite, as an ERP software, brings together all these essential functions into one integrated platform. It offers real-time access to crucial business data, advanced analytics, automation features, and the ability to customize the system according to specific needs. What sets NetSuite apart is its flexibility and convenience, as it allows users to access the ERP system anytime, anywhere, using their mobile devices. It truly empowers businesses by providing a robust and user-friendly ERP solution.
• Learn more about ERP
• What is Cloud ERP Software
• Why Companies Choose NetSuite ERP
• Calculate NetSuite pricing
Unlocking the Advantages: NetSuite's Impact on Every Business
NetSuite can benefit a wide range of fast-growing businesses, from fast-growing startups to multinational corporations, as well as companies in e-commerce, service-based industries, and wholesale/distribution. Its scalability allows for growth, while its global capabilities support international operations. NetSuite's native e-commerce integration and specialized modules cater to online businesses and service-oriented industries. Its robust inventory management and supply chain features also provide value to wholesale and distribution businesses. Overall, NetSuite's flexibility makes it adaptable to various industries and business models, depending on specific needs and requirements.
Major industries that benefit from NetSuite ERP: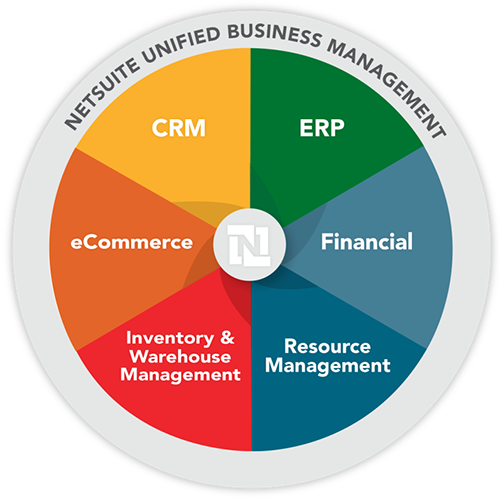 NetSuite Core Features
General Ledger
Global Financial Management
Time and Billing
Accounts Receivable
Accounts Payable
And More
B2B and B2C Capabilities
Inventory Management
Order Management
Drop Shipment and Special Orders
Vendor Records
And More
Campaign Management
Competitor Tracking
Online Lead Forms
Customer and Contact Management
Salesforce Automation
And More
PCI Compliance
Third-party Seller Integration
Customer Acquisition Enhancements
Customer, Partner Self-Service
Multi Language
And More
FREQUENTLY ASKED NETSUITE QUESTIONS:


How Much Does NetSuite Cost?
When it comes to NetSuite pricing, there is no one-size-fits-all approach. The cost will depend on the specific needs and size of your business. NetSuite takes into account various factors such as the number of users, preferred tools, implementation, and subscription duration to determine the annual licensing fee. However, investing in NetSuite is worth it as it provides a comprehensive solution for all your business needs. If you want to learn more about purchasing NetSuite, we recommend checking out our detailed pricing guide that will give you a better idea of what to expect. Whether you are a small business or a large corporation, NetSuite has a pricing plan that fits your budget. Calculate Custom NetSuite Pricing



How to Choose the Right ERP?
To select the ideal ERP system for your business, start by understanding your needs and involving key stakeholders. Research different options, considering features, flexibility, scalability, integration, costs, and vendor support. Request demos and references, and make a well-informed decision that aligns with your goals and budget. ERP consultants can offer valuable guidance throughout the process. Top Tips to Select the Right ERP



What is the difference between Oracle and NetSuite?
Oracle and NetSuite are both software solutions offered by Oracle Corporation, but they have different target markets and purposes. Oracle ERP Cloud is designed for large enterprises with complex needs and offers a comprehensive suite of modules for various business operations. NetSuite is a cloud-based ERP solution tailored for small and medium-sized businesses (SMBs) and mid-market organizations. NetSuite provides an all-in-one platform integrating key functions like finance, inventory, CRM, and project management, making it suitable for SMBs seeking scalability and simplicity. What is NetSuite and What Does it do?



What Type of System is NetSuite?
NetSuite is a cloud-based ERP system that integrates various business functions into a single platform. It helps organizations manage financials, inventory, customers, projects, and more. Accessed through a web browser, NetSuite provides real-time visibility and improves operational efficiency for businesses of all sizes. The Benefits of Cloud ERP
What is NetSuite Accounting Software?
Is NetSuite accounting software a part of the NetSuite business suite? Yes, NetSuite Accounting Software is an integrated part of the NetSuite Business Suite. NetSuite encompasses various modules and functionalities that cover core business operations, including financial management, inventory management, customer relationship management (CRM), e-commerce, project management, and more. The accounting software module is a crucial component of the suite, specifically dedicated to managing financial processes and providing comprehensive accounting capabilities. It works seamlessly with other modules within the suite to provide a unified and integrated ERP solution for businesses. What is NetSuite Financials? | The benefits of NetSuite Global Financials (NetSuite OneWorld)


What is a NetSuite Partner?
Why work with a NetSuite Partner to buy and implement NetSuite? There are several reasons why partnering with a NetSuite Solution Provider is the smart choice for businesses seeking to implement NetSuite.

Reason #1: NetSuite Solution Providers offer personalized business guidance tailored to your company's unique needs. They take the time to understand your business objectives and provide expert advice on how NetSuite can help you achieve them.
Reason #2: Working with a NetSuite Solution Provider gives you access to one-on-one support. You will have a dedicated consultant who will be there to answer your questions, provide training, and troubleshoot any issues you encounter along the way. This direct access to expert support can save you valuable time and resources.
Reason #3: When you work with a NetSuite Solution Provider, you'll have direct access to a team of consultants who are passionate about helping businesses succeed. They are committed to ensuring that you get the most out of NetSuite and will go above and beyond to ensure your satisfaction. So, if you're looking for a comprehensive business solution that will help your company grow and thrive, partnering with a NetSuite Solution Provider is the way to go. NetSuite partner vs NetSuite Direct
Quick Guide to Oracle NetSuite ERP:
Tailored to Your Business Demonstrations | Competitive ERP Resources | Calculate NetSuite Pricing
Are you ready to take your business to new heights in 2023? Our team of experts will walk you through the features and capabilities of the system for your industry, so you can make an informed decision about whether it's the right fit for your business requirements. Get NetSuite pricing for your business with our 1-minute NetSuite pricing calculator and we'll contact you with a demonstration tailored to your business, provide you with resources, competitive information to help you make the best software decision for your requirements, and be your guide to unlocking your growth potential with ERP software.
• ERP Tips for Business Growth
• NetSuite CRM Overview
• NetSuite Product Overview
• Get 2023 NetSuite Pricing
Trending ERP Software Resources
Learn how small businesses
are benefitting from cloud ERP and
growing their business.
The benefits of NetSuite continuous
accounting with greater efficiency,
accuracy, and data in one place.

How to Buy NetSuite:
As a top NetSuite partner, Protelo is here to guide your business through the process of purchasing NetSuite. We will connect you with our experienced sales team, and engage in a detailed conversation to understand your unique business requirements and tailor the perfect NetSuite package for you. Our experts will schedule a a personalized demo, showcasing how NetSuite can benefit your unique business and meet your business needs based on your requirements, and a comprehensive quote that covers license costs, implementation fees, and ongoing maintenance. We will negotiate and finalize the agreement, ensuring every aspect aligns with your needs and kick-start the implementation process, working closely with you to configure and deploy NetSuite to maximize its benefits for your organization.
Protelo has been fortunate enough to help countless businesses streamline their processes and get the most out of NetSuite. Our team is here to assist you through every aspect of your NetSuite journey.
Receive Updates
On
LinkedIn